1-Day Acuvue Moist for Astigmatism Contact Lenses
by Johnson & Johnson
Type: Daily Disposable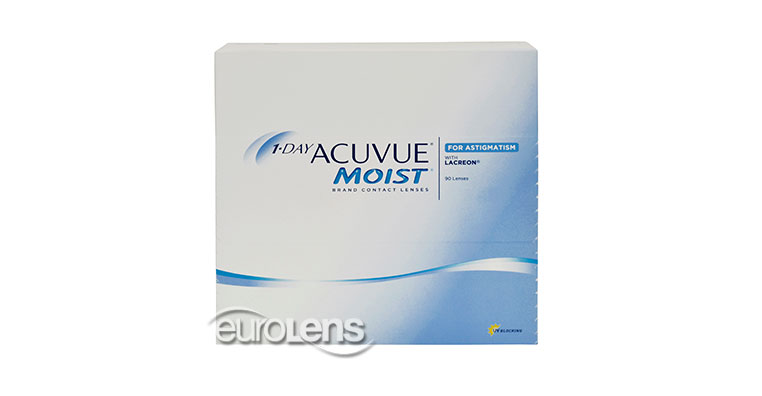 Enter Prescription
Need Prescription Help?

Prescription Information:
OD

right eye

OS

left eye

Brand name

eg. Acuvue

BC / Base Curve

a number between 8.0 and 10.0

DIA / Diameter

a number between 13.0 and 15.0

Power / Sphere / Rx

a number between -20 and +20
In Addition for astigmatic patients:
Cylinder

a number between -4.00 and +4.00

Axis

a number between 0 and 180

Cylinder and Axis are usually separated by a x
For Multifocal, Bifocal lenses or Presbyopia:
"Addition" or "add" is usually preceded by "+" or is listed as "low", "mid" or "high" depending on the lens manufacturer.
Product Information:
Along with the convenience of no solutions and no lens cases, Acuvue has brough together their innovative BLINK STABILIZED™ lens design and the exceptional comfort of LACREON® Technology to form a lens like no other. It gives you consistently clear and comfortable vision from the moment you put them in, to the moment you toss them at the end of the day.
Price Comparison:
Package Size
Our Lowest Price
Retail Price
Your Savings

30

Pack
(

1

Month Supply)
£26.27

*

£40.83

*

£14.55

*

90

Pack
(

3

Month Supply)
£53.83

*

£92.07

*

£38.24

*
1-Day Acuvue Moist for Astigmatism

Reviews