Air Optix Night & Day Aqua Contact Lenses
Regular Price:
£40.02

*

per box
Manufacturer:
Alcon
Type:
Monthly Disposable
Contains:
6 Lenses per Box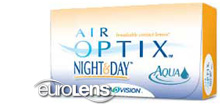 Enter Prescription
Need Prescription Help?

Prescription Information:
OD

right eye

OS

left eye

Brand name

eg. Acuvue

BC / Base Curve

a number between 8.0 and 10.0

DIA / Diameter

a number between 13.0 and 15.0

Power / Sphere / Rx

a number between -20 and +20
In Addition for astigmatic patients:
Cylinder

a number between -4.00 and +4.00

Axis

a number between 0 and 180

Cylinder and Axis are usually separated by a x
For Multifocal, Bifocal lenses or Presbyopia:
"Addition" or "add" is usually preceded by "+" or is listed as "low", "mid" or "high" depending on the lens manufacturer.
Product Information:
Air Optix Night & Day Aqua are monthly disposable contact lenses manufactured by Ciba Vision. Air Optix Night & Day Aqua are revolutionary lenses are highly breathable, allowing six times more oxygen through the lens than traditional soft lenses. Up to thirty days of continuous, natural vision means complete day-to-day freedom - no daily insertion and removal, no cleaning, and no lens-care product expense. They're so comfortable; you might even forget you're wearing them. Plus, you'll see clearly all the time, even when you get up for that midnight snack.
Air Optix Night & Day Aqua

Reviews





10 yrs later....
I have been wearing these lenses for more than 10 years now and have had absolutely NO problems. Occassionally I change them after about 25 days when I have been working in a dusty environment or swimming a lot, but other than that, I am totally reliant on them and hope never to have to change my brand! Many thanks to Ciba Vision for a great product.