Air Optix Aqua Multifocal Contact Lenses
Regular Price:
£37.62

*

per box
Manufacturer:
Alcon
Type:
Bifocal Lenses
Contains:
6 Lenses per Box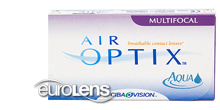 Enter Prescription
Need Prescription Help?

Prescription Information:
OD

right eye

OS

left eye

Brand name

eg. Acuvue

BC / Base Curve

a number between 8.0 and 10.0

DIA / Diameter

a number between 13.0 and 15.0

Power / Sphere / Rx

a number between -20 and +20
In Addition for astigmatic patients:
Cylinder

a number between -4.00 and +4.00

Axis

a number between 0 and 180

Cylinder and Axis are usually separated by a x
For Multifocal, Bifocal lenses or Presbyopia:
"Addition" or "add" is usually preceded by "+" or is listed as "low", "mid" or "high" depending on the lens manufacturer.
Product Information:
Ciba Vision's Air Optix Multifocal Aqua are monthly replacement contact lenses. Air Optix Multifocal Aqua are breathable contact lenses, which deliver an advanced combination of oxygen and moisture for a healthy, natural feeling. The patented surface treatment of Air Optix Multifocal Aqua resists deposits to contribute to healthy lens wear Air Optix Multifocal Aqua: Saying goodbye to discomfort.
Air Optix Multifocal Aqua lenses are recommended for daily wear or up to six nights of extended wear, as determined by your eye care professional for the optical correction of vision in persons with healthy eyes.
Air Optix Multifocal Aqua lenses are tinted for ease of handling and will not change the color of your eye. The tint is simply designed to facilitate locating the contact lenses in solution.
Air Optix Aqua Multifocal

Reviews