Acuvue Oasys for Astigmatism Contact Lenses
Regular Price:
£40.82

*

per box
Manufacturer:
Johnson & Johnson
Type:
Toric Lenses
Contains:
6 Lenses per Box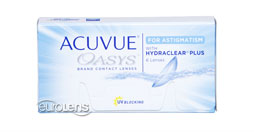 Enter Prescription
Need Prescription Help?

Prescription Information:
OD

right eye

OS

left eye

Brand name

eg. Acuvue

BC / Base Curve

a number between 8.0 and 10.0

DIA / Diameter

a number between 13.0 and 15.0

Power / Sphere / Rx

a number between -20 and +20
In Addition for astigmatic patients:
Cylinder

a number between -4.00 and +4.00

Axis

a number between 0 and 180

Cylinder and Axis are usually separated by a x
For Multifocal, Bifocal lenses or Presbyopia:
"Addition" or "add" is usually preceded by "+" or is listed as "low", "mid" or "high" depending on the lens manufacturer.
Product Information:
Acuvue Oasys for Astigmatism are silicone-hydrogel contact lenses manufactured by Johnson & Johnson (Vistakon). Astigmatism occurs when the cornea has an irregular or severe curve, instead of a normal, smooth, uniform curve. Vision becomes blurred when some light rays entering the eye are focused correctly on the retina while other light rays are not. Acuvue Oasys for Astigmatism lenses feature advanced technologies that offer more moisture, better UV protection, convenience and improved comfort for those with allergies. Acuvue Oasys for Astigmatism uses silicone hydrogel technology. Hydrogels are hydrophilic (water holding), gel-like polymers that create lenses that are soft, elastic, moisture-rich, and oxygen permeable. This makes it easier to focus on your game and not on your eyes.
Acuvue Oasys for Astigmatism lenses are tinted for ease of handling and will not change the color of your eye. The tint is simply designed to facilitate locating the contact lenses in solution.
Acuvue Oasys for Astigmatism

Reviews