Acuvue Oasys Contact Lenses
by Johnson & Johnson
Type: 1-2 Week Disposable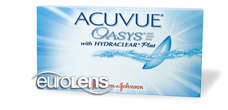 Enter Prescription
Need Prescription Help?

Prescription Information:
OD

right eye

OS

left eye

Brand name

eg. Acuvue

BC / Base Curve

a number between 8.0 and 10.0

DIA / Diameter

a number between 13.0 and 15.0

Power / Sphere / Rx

a number between -20 and +20
In Addition for astigmatic patients:
Cylinder

a number between -4.00 and +4.00

Axis

a number between 0 and 180

Cylinder and Axis are usually separated by a x
For Multifocal, Bifocal lenses or Presbyopia:
"Addition" or "add" is usually preceded by "+" or is listed as "low", "mid" or "high" depending on the lens manufacturer.
Product Information:
Acuvue Oasys are weekly disposable contact lenses manufactured by Johnson & Johnson. Hydraclear Plus is an exclusive Acuvue technology that combines a remarkable wetting agent with a high- performance oxygen-transmitting silicone hydrogel. This unique technology creates a lens that's extremely smooth and moist without stiffness or a need for surface coating like some other silicone-hydrogel lenses. Acuvue Oasys are FDA-approved for overnight wear (up to one week). And Acuvue Oasys helps protect against the direct and reflected rays that pass through the cornea into your eye, blocking up to 82% of UV-A radiation and 97% of UV-B radiation
Acuvue Oasys are tinted for ease of handling and will not change the color of your eye. The tint is simply designed to facilitate locating the contact lenses in solution. These contact lenses contain an inside-out "AV" indicator to help ensure proper application/insertion.
Price Comparison:
Package Size
Our Lowest Price
Retail Price
Your Savings

12

Pack
(

6

Month Supply)
£46.14

*

£82.66

*

£36.52

*

24

Pack
(

1

Year Supply)
£91.64

*

£144.10

*

£52.46

*