FreshLook ColorBlends Contact Lenses
Regular Price:
£56.12

*

per box
Manufacturer:
Alcon
Type:
Color Disposable
Contains:
6 Lenses per Box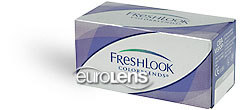 Enter Prescription
Need Prescription Help?

Prescription Information:
OD

right eye

OS

left eye

Brand name

eg. Acuvue

BC / Base Curve

a number between 8.0 and 10.0

DIA / Diameter

a number between 13.0 and 15.0

Power / Sphere / Rx

a number between -20 and +20
In Addition for astigmatic patients:
Cylinder

a number between -4.00 and +4.00

Axis

a number between 0 and 180

Cylinder and Axis are usually separated by a x
For Multifocal, Bifocal lenses or Presbyopia:
"Addition" or "add" is usually preceded by "+" or is listed as "low", "mid" or "high" depending on the lens manufacturer.
Color Options:
Amethyst

Blue

Brown

Green

Grey

Honey

Pure Hazel

True Sapphire

Turquoise

Brilliant Blue

Sterling Grey

Gemstone Green
Product Information:
FreshLook ColorBlends are disposable contact lenses manufactured by Ciba Vision. FreshLook ColorBlends is a disposable soft contact lens that promotes comfort and convenience in an array of affordable colors. FreshLook ColorBlends create naturally dramatic changes to color in dark eyes. Whichever color you choose, you'll notice immediately that they look as good as they feel.
FreshLook ColorBlends contact lenses contain an inside-out "FL" indicator to help ensure proper application/insertion.
FreshLook ColorBlends

Reviews





483 people found the following review helpful:
Good Quality & Colour
I got these contacts in regular gray (not sterling) and I'm loving the colour. They are really comfortable too. I'm happy with my purchase and if I want any more, I'll definitely re-order from here again.
484 people found the following review helpful:
FreshLook ColorBlends in Brillant Blue
I asked my optician to prescribed colours and she prescribed FreshLook ColorBlends. I wish I could say they are all fantastic but they honestly don't fit my eyes perfectly. However, they are not so uncomfortable that I can't wear them and after about 5 minutes I can tune out the weird feeling in my eyes. I have REALLY dark brown eyes almost black and I bought the Brilliant Blue. They look amazing, and halfway natural. I had one lady ask me how someone with dark skin could have such pretty blue eyes. I didn't have the heart to tell her she was complementing something fake. And yes I will continue to buy these in other colours.
483 people found the following review helpful:
True Sapphire....Beautifully eye popping colour
I've been using the sapphire blue for a year now. My eyes are dark brown. I love the blue colour. I have had many compliments on how pretty my eyes are. Hate to tell them they are only contacts. Wanting to order another colour to see how they will work. Not sure yet which one, too many to choose from. FreshLook ColorBlends are a keeper.
483 people found the following review helpful:
Green Freshlook Colorblends
I have used the green freshlook colorblends for over 15 years and till this day I'm 100% satisfied. They are comfortable and last a long time. I wear them every day 24/7. Everyone thinks green it's my real color but my real color is dark brown so they blend in pretty good. my brother & sister have used them for allot of years & truly loved them also. I will recommend them 100%
483 people found the following review helpful:
BEST!!! Sterling Grey FreshLook ColorBlend
I love love love the Sterling Grey FreshLook ColorBlends contact lenses. they are sooo beautiful, previously i had tried acuvue's pearl grey contacts but nothing compares to the sterling grey from freshlook colorblends. my eyes are dark brown, almost black, and these conatcs look dark grey in some lights, turquoise in others and baby blue in most lighting. i love them. they look so natural and they dont move around. the dark grey ring around them really helps to blend in and overall they just look stunning. they look so natural, and already i've gotten compliments, and i just got them yesterday. i reccomend these to anyone, whether you have light or dark skin, these will make you look beautiful =D
483 people found the following review helpful:
FreshLook ColorBlends Brilliant Blue!
I absolutely loovee my Brilliant Blue FreshLook ColorBlends!I have very dark brown eyes, and it's amazing that I can finally have bright blue eyes, or bright green eyes! Plus, their so comfortable, and natural looking. FreshLook ColorBlends are the best. :D!
483 people found the following review helpful:
GreenEyes
I am an AA and i have natural dark brown eye and I love love love these contact!! I have been wearin Freshlook Colorblends contacts in green for over 6 years and nothing else. I have only consider switching to another color in this brand. They look so natural and feel comfortable ALLDAY You can even get longer usage out of them depending on how you care for them. I love my 'natural looking' green eyes!!!
485 people found the following review helpful:
Great for dark eyes!
These really do color my super dark eyes! I got the freshlook colorblends green and they look so natural the people don't even notice unless they know my natural eye color.
483 people found the following review helpful:
Freshlook colorblends Pure Hazel
I have dark brown eyes and I've worn Pure Hazel for almost 2 years and everyone loves my eyes. A lot of guys have asked me if they're my real eyes color. To be honest, It's so hard for me to say They're not. I wish they were. But well, I still say No, I wear contact lens.
If you're Asian and have Dark brown eyes, You really should go with Hazel. It's super natural. No one will believe it is not your eyes color. Trust meeeee. The best of the best contact lens. :X.
And I'm thinking of trying out Brown.
483 people found the following review helpful:
I LOVE IT!
I have dark brown eyes and have always wondered how I would like with light-colored eyes. I decided to try the Freshlook Colorblends contacts. My first pair was gray and I was hooked from that day. This was 1997. I've been wearing them ever since. Those that don't know me before then think they are my real eye color until I pop one out. They are stunned! It makes me look sexy, gets lots of attention and even worked great with a change in hair color/style. Its been over 10 years and I'm wondering will I still be able to wear them (and see clearly) in another 30 years? Only time will tell.
483 people found the following review helpful:
sneaky
I love these FreshLook Color Blends. I buy these for everyday use, but, I have presription ones. I buy these for plying. Like outfits, new make up and positively for week end get aways/vacation in the event I lose one, or rip one. Obviously, the real ones ($200) ones, I prefer for a good evening out or events such as weddings, dinners, etc, and my favorite colors are purple and the blues I favor those colors cuz they seem close to the same, I love when I see some people one day with one color, the next day another. That's about how much fun I've been having since I learned I cnan buy them on line. Pretty sad for a middle ager.
485 people found the following review helpful:
True Sapphire
I'm Asian and a lot of people actually thought my eyes were naturally blue. I told them it's contacts and some doesn't even believe me. Haha. Weird. But it's a really nice color. Right now, I'm getting the Grey & Violet, just trying a different color. :)