Acuvue Advance for Astigmatism - DISCONTINUED Contact Lenses
Regular Price:
£27.45

*

per box
Manufacturer:
Johnson & Johnson
Type:
Toric Lenses
Contains:
6 Lenses per Box
Buy More & Save More - Acuvue Advance for Astigmatism only £25.95 at euroLens.co.uk
Buy 2+
@ £25.95

*

per eye
per box
Discontinued
See below for details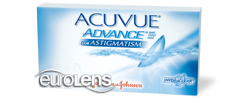 Enter Prescription
Need Prescription Help?

Prescription Information:
OD

right eye

OS

left eye

Brand name

eg. Acuvue

BC / Base Curve

a number between 8.0 and 10.0

DIA / Diameter

a number between 13.0 and 15.0

Power / Sphere / Rx

a number between -20 and +20
In Addition for astigmatic patients:
Cylinder

a number between -4.00 and +4.00

Axis

a number between 0 and 180

Cylinder and Axis are usually separated by a x
For Multifocal, Bifocal lenses or Presbyopia:
"Addition" or "add" is usually preceded by "+" or is listed as "low", "mid" or "high" depending on the lens manufacturer.
Product Information:
Acuvue Advance for Astigmatism are silicone-hydrogel contact lenses manufactured by Johnson & Johnson. Hydraclear is an exclusive Acuvue technology that combines a remarkable wetting agent with a high- performance oxygen-transmitting silicone hydrogel. This unique technology creates a lens that's extremely smooth and moist without stiffness or a need for surface coating like some other silicone-hydrogel lenses. Acuvue Advance for Astigmatism use revolutionary Accelerated Stabilization Design (ASD) harness the natural pressure of your eyelids to help keep lenses where they need to be. The result is exceptional comfort, unmatched stability, and crisp vision.
Acuvue Advance for Astigmatism are tinted for ease of handling and will not change the color of your eye. The tint is simply designed to facilitate locating the contact lenses in solution.
Acuvue Advance for Astigmatism

Reviews





awsome! never go back to glasses again!!!!!!
I had tried contacts once before and found they did not work for me but after trying these lenses I will absolutely never go back to glasses. They are totally comfortable and I can't tell that they are in. I am a farmer and mechanic and am around a lot of dust and outside most of the time. I have zero problems with these lenses as long as I keep bits of stuff out of my eyes and religiously soak them in Lens Solution every night. They seem to last about 2 weeks for me but that is just fine for how well these lenses perform. I have worn Acuvue Advance for Astigmatism lenses for about a year now and will absolutely never go back to glasses again!!!!!!