Acuvue Advance Plus Contact Lenses
by Johnson & Johnson
Type: 1-2 Week Disposable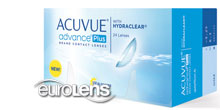 Enter Prescription
Need Prescription Help?

Prescription Information:
OD

right eye

OS

left eye

Brand name

eg. Acuvue

BC / Base Curve

a number between 8.0 and 10.0

DIA / Diameter

a number between 13.0 and 15.0

Power / Sphere / Rx

a number between -20 and +20
In Addition for astigmatic patients:
Cylinder

a number between -4.00 and +4.00

Axis

a number between 0 and 180

Cylinder and Axis are usually separated by a x
For Multifocal, Bifocal lenses or Presbyopia:
"Addition" or "add" is usually preceded by "+" or is listed as "low", "mid" or "high" depending on the lens manufacturer.
Product Information:
Acuvue Advance Plus are silicone hydrogel contact lenses from Johnson & Johnson. Acuvue Advance Plus lenses help protect the covered portions of your eyes by blocking at least 90% of the UV-A radiation and 99% of the UV-B radiation. They utilize the Hydraclear Plus technology to help eyes stay moist and fresh. Acuvue Advance Plus featuring next generation Hydraclear Plus silicone-hydrogel technology, helps keep your eyes fresh and comfortable.
Price Comparison:
Package Size
Our Lowest Price
Retail Price
Your Savings

6

Pack
(

3

Month Supply)
£16.20

*

£30.14

*

£13.94

*

24

Pack
(

6

Month Supply)
£41.06

*

£77.92

*

£36.86

*
Acuvue Advance Plus

Reviews