Acuvue Oasys 1-Year Supply for Overnight Use - DISCONTINUED Contact Lenses
Regular Price:
£136.18

*

per box
Manufacturer:
Johnson & Johnson
Type:
1-2 Week Disposable
Contains:
54 Lenses per Box
Discontinued
See below for details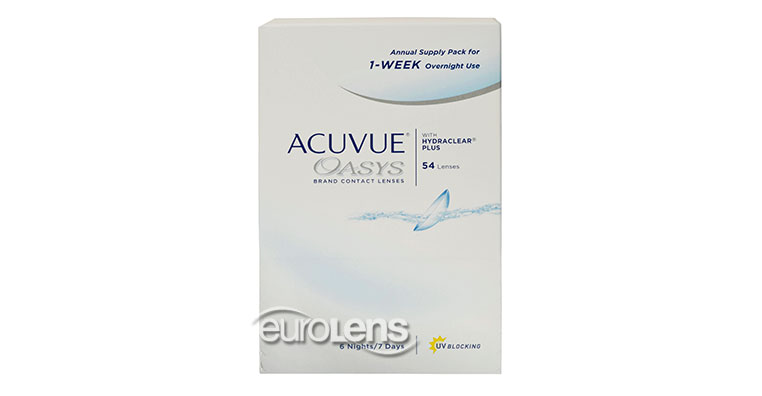 Enter Prescription
Need Prescription Help?

Prescription Information:
OD

right eye

OS

left eye

Brand name

eg. Acuvue

BC / Base Curve

a number between 8.0 and 10.0

DIA / Diameter

a number between 13.0 and 15.0

Power / Sphere / Rx

a number between -20 and +20
In Addition for astigmatic patients:
Cylinder

a number between -4.00 and +4.00

Axis

a number between 0 and 180

Cylinder and Axis are usually separated by a x
For Multifocal, Bifocal lenses or Presbyopia:
"Addition" or "add" is usually preceded by "+" or is listed as "low", "mid" or "high" depending on the lens manufacturer.
Product Information:
Johnson $ Johnson presents the new Acuvue Oasys for 1-week overnight use lenses. Acuvue Oasys is designed for maximum comfort for overnight lens wearers. This lens offers the highest protection available, blocking more than 99% of UVB and 95% of UVA-1 rays. Using the Hydraclear Plus technology, these lenses keep your eyes moist all day, and all night long. Itís the same great Acuvue Oasys lens you know, now bundled in an annual supply pack to keep overnight wearers seeing clearly for a whole year.
Acuvue Oasys 1-Year Supply for Overnight Use

Reviews